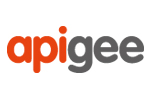 Apigee part of Google Cloud
Apigee now part of Google Cloud, is proud to be a leader in APIs. We have a solid track record of working hand in hand with some of the largest and most demanding brands in the world to solve new problems and create new products. We're excited to accelerate our journey to connect the world through APIs as part of the Google team.
An API Platform for Digital Business: Apigee delivers an API platform to accelerate the pace of digital business. We help companies – from disruptive start-ups to the Fortune 100 – use their enterprise data and services to create connected digital experiences for customers, partners and employees. This is digital business. Many of the world's largest organizations select Apigee to enable their digital business. Apigee customers include global enterprises such as Walgreens, Burberry, Morningstar, and First Data.