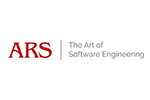 ARS Computer und Consulting GmbH
ARS Computer und Consulting ist eines der führenden Unternehmen im Bereich Software Engineering. Unsere Mission: The Art of Software Engineering. Dies beinhaltet hochwertige Beratung und erfolgreiche Projekte zur agilen Entwicklung qualitativ exzellenter Software. Dabei unterstützen wir unsere Kunden ganzheitlich, insbesondere in der Digitalisierung und Cloud Transformation. Unser Leistungsspektrum erstreckt sich vom Design über Architekturberatung, Entwicklung, Qualitätssicherung, Betriebskonzepte mit DevOps bis hin zu Management von APIs, Cloud-Plattformen und Künstlicher Intelligenz.
Im Fokus dabei: Microservices-Architekturen, umgesetzt mit agilen Entwicklungsmethoden, unterstützt durch DevOps-Tools und -Prozesse, mit einer klaren Ausrichtung auf APIs – nach innen und nach außen. Dabei machen wir unsere Kunden fit für die Zukunft und unterstützen sie bei ihren Projekten – Ganzheitlich · Innovativ · Qualitativ.