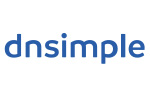 DNSimple
DNSimple provides a comprehensive API and web interface for domain management automation to customers around the world. Get your DNS hosting and domains set up and running quickly with our API. Our API can save you hours each month.
Update DNS records, request SSL certificates, and transfer or register new domains from your custom scripts. 
Browse the source code for our current API clients, Elixir, Go, Java, .Net, Ruby, Node JS. Use our Sandbox for free.
Build with confidence. Verify and test your code before you ship it. If you have a question we are here to help.
Using DNSimple is exactly that: Simple. Set your DNS records, and move on to more pressing concerns. Manage a highly dynamic infrastructure with constant DNS changes without breaking a sweat. You can rely on us to provide a domain management service that makes your life easier.