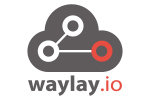 Waylay
Waylay is a B2B software company founded in 2014 with the mission to empower organisations to realize a better ROI from their IoT investments.
Based on a patented technology, the Waylay platform combines data ingestion, stream processing, business rules, workflows, third party integrations, APIs and analytics onto the same easy-to-use platform. Waylay empowers vendor-neutral orchestration across IoT platforms, IT systems and cloud services enabling enterprises to meet the full business potential of IoT. 
The Waylay technology is vertical agnostic and is used by companies in different industries, such as IT, consumer goods, manufacturing, industrial engineering, retail, utilities and others. The use cases Waylay supports revolve around remote asset monitoring, fault prediction, improving operational efficiency, providing better customer support, boosting product innovation and more. Waylay currently serves 50 enterprise customers across the globe, in the US, Western Europe and Australia.