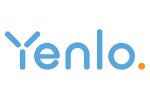 Yenlo
Yenlo is a group of smart people that support organizations in making their IT systems fast and agile. Yenlo is expert in providing high availability Integration and API management solutions based on the newest open source and Java technology stacks. We deliver smart IT solutions. We unravel and we connect. So, that data streams flow within companies, between companies, to customers and back to you. In a world where everything talks, communication is key.
We believe that everyone is capable of doing great things, as long as they've got access to the right tools and professionals. Yenlo is Premier Partner of WSO2 who delivers, worldwide, implementation services, software development services, training and certification programs, and support services. Yenlo evolved from a company based in the Netherlands to a global company, with offices in the Netherlands, Belgium, Germany, United Kingdom, Switzerland and the United States. Visit www.yenlo.com for more information.
Please let me know if this is fine.